The perfect date night outfit is a look I get a ton of requests about. Picking the perfect outfit is especially difficult when you're just starting to date. Whether you think about it or not, your clothes, and how you choose to dress, can say a lot about you! This is particularly true when you're in the dating game. I thought I'd put together a little guide for picking the perfect first date outfit to provide a little inspiration to help those of you out who spend an entire afternoon deciding what to wear. This week's post is for the ladies, check back for a post of First Date Outfits for the Fellas.
Comfort is Key
In high school, when I couldn't decide what to wear, my mom would ask me, "What's most comfortable?" It's unbelievable how important comfort is when it comes to selecting your outfit. This is especially true when you're meeting someone for the first time; the last thing you want to be concerned with is if your dress is static-y or your blouse is hanging awkwardly. If you're uncomfortable in something you're wearing, your date may misinterpret that as discomfort with him/her. Plus, your date won't think those heels are that cute if you're wobbling around because your feet hurt. So before I make any suggestions as to outfit ideas or styles to try, I want to emphasize the importance of comfort.
Confidence Baby
My next tip builds on the comfort factor, and that's confidence. You want to select an outfit that is not only comfortable, but makes you feel really good. You know your body better than anyone, so choose an outfit that you feel is flattering, well-fitting, and makes you feel like a million bucks. If you know red is your color, wear red! If your legs are your best feature, show them off. Maybe there's a piece of clothing you are frequently complimented on? Wear that! Chances are there is something you own that makes you feel like a rock star. Pinpoint what about that look makes you feel so good, and then implement that for your date!
Can't think of anything?
Here are a few examples:
Do you have a lot of definition in your collar bone? Wear an off the shoulder style.

Is your hair your best feature? Keep your top simple, and wear it down.

Itty bitty waist? Choose a belted dress or high waist jeans.

Nice long neck? V-neck is great for you!

Are you proud of that booty? Opt for a bodycon style dress.
Outfit Inspiration
Now, unfortunately there is not a one-size-fits-all, universally perfect first date outfit. I wish! You have to make a selection that works for you! Your body, your closet, your date. But I have put together a few samples ideas to get the ball rolling. Since spring is creeping up fast, I selected some looks for moderate temps that will work for either an inside date, or something outdoors. Depending on if you're going out to a fancy dinner, or a walk in the park, here are some ideas to point you in the right direction.
Super Casual
It's crazy how fashion is so cyclical, but the denim skirt is back! A well fitting denim skirt, and a length you are comfortable with, is the perfect option for a first date (and a great way to show off your perfectly contoured spray tan). The denim skirt is casual, but just a step above regular jeans. It can be dressed up and down. Here are a few ideas for styling a denim skirt for a casual first date.
A distressed denim skirt, with a simple striped button down. Try a half tuck, French tuck, or knot it to add some shape to your figure. This is a great look because it can be paired with simple white sneakers, espadrille wedges, or flat sandals.
Another casual date option is a more structured denim skirt with a graphic tee. Do you have a favorite band? Maybe a cool vacation t-shirt? Or just a vintage tee that demonstrates something of interest? It's a great way to dress comfortable, casual, and stimulate a little conversation to learn more about each other.
My last denim skirt look is super simple. Opt for a longer style skirt, a simple tank, and a cute scarf! When you're struggling to find the perfect look, a good suggestion is to keep things simple, and use accessories to add character to look. In this case a scarf! You can also try fun earrings, jingly bangles, or a bright bag to bring your personality!
Dressy
Maybe your date plans include something a little more formal. Are you going to a nice restaurant? A performance? A night on the town? If you need a look that requires you to be more dressed up I recommend experimenting with mixing textures. Since Spring is transitional, you can pull elements from both your winter and summer wardrobe to create a unique look that works only this time of year! Here I put together a few more formal outfit ideas that play with textures and patterns to give a more classy and put-together look for your next first date.
Floral with Leather
Pair a floral dress with a leather jacket and booties. You can incorporate florals without freezing your a** off. Plus a cute pair of low-heel leather booties will be both comfortable and sexy. And it may be the last chance you can wear that leather jacket before temps get too hot!
Embroidery and Suede
Get one last wear out of those over the knee boots! Pair suede boots with an embroidered dress for a look with tons of character. You can also try a suede moto jacket, or blazer for another approach. Get creative and mix soft suede with bright stitching!
Denim and Lace
For a slightly more casual evening/dinner look, trying mixing dark denim with lace. Lace is elegant, and very detailed, so it's best when paired with simple pieces. If you're more of a jeans girl, try a delicate lace top and pumps for the perfect spring date night.
P.S. Consider a boot cut!
In Between Dressy and Casual
If you're looking for a look somewhere in between dressed up and dressed down, or your date is going to be a surprise, might I suggest a classic wrap dress? The wrap dress is the perfect look for virtually any occasion. It's breathable, comfortable, nearly universally flattering, and can be dressed up or down with the right accessories. Every woman should have at least one wrap dress in their closet. DVF is the queen of the wrap, so if you're looking for the perfect wrap for you, I suggest starting with her website. But there are tons of more affordable options.  Here is one of my favorites: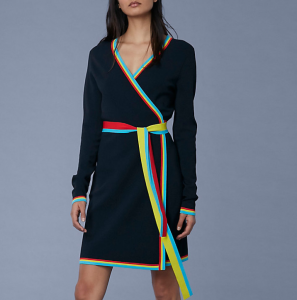 You can wear a classic wrap with sneakers and a denim jacket, get some strappy sandals and chandelier earrings, or just a simple pair of flats. The possibilities are endless, which is why this makes such a great, versatile first date look.
Now that I've provided you with a few ideas of how to dress for your next first date, I'd love to see some of the looks you created! Or, if you've had any major first date outfit fails?? If you think you still might need some help, Refined offers customized One Time styling packages to help you achieve that perfect first date ensemble.
Check back soon for Spring date looks for men, and  summer first date looks! Thanks for reading